Spring catalog is online and registration is open!
Board & Staff
Staff
Wendy Greenfield, Executive Director
Chris Boyland, Technology Program Coordinator
Renae Buono, Program Director
Susan Cohen, Registration/Volunteer Manager
Amy Conard, Operations/Program Director
Caroline Cuthbert, Program Consultant
Arlene Kaufman, Special Projects Director
Esther McGill, Program & Strategic Partnerships Director
Kathleen Pollack, Information Services Director
Jane Rutman, Marketing/Finance/HR Director
Bonni Shinfeld, Trips and Travel Director
Chris Smith, Development/Membership Director
Mike Zavorski, Creutzburg Site Manager
Board of Directors Officers
John (Jay) Einspanier, Chair
Susan VanAllen, Vice Chair
Brian Kirby, Secretary
Ann Kelly, Treasurer
Board Members
Tom Bang, Berwyn
Frederick L. (Rick) Browne, Newtown Square
Wendy Campbell, Jeffersonville
Bill Cumby III, Devon
Ken DeMarco, Rosemont
Judy DiFilippo, Devon
Sharon Edwards, Malvern
Carrie Frey, Bryn Mawr
Sondra (Sunny) Greenberg, Philadelphia
Terri Hartman, Penn Valley
Jerry Henige, Wayne
DruEllen Kolker, Bryn Mawr
Arlene Olson, Wynnewood
Monika Panger, Berwyn
Denise Stephen-Hurley, Bryn Mawr
William Susskind, Strafford
Harvard C. Wood IV, Berwyn
Cindy Yovanov, West Chester

Wendy Greenfield (ex officio)
In This Section
Subscribe to Our Newsletter
Be the first to know about exciting happenings at MLSN. Sign up to receive email updates.
Download Our Catalog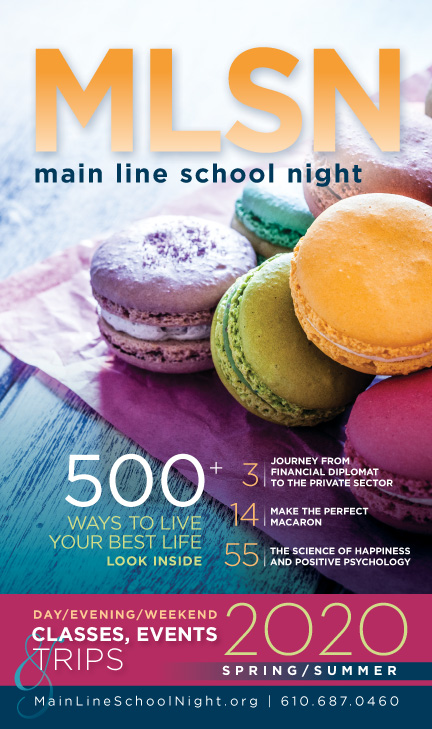 spring/summer 2020
Search classes, pages, news, categories...