Trips and Tours Director
Part-time: 15 hours per week/varies per week
Location: Works remotely; available for meetings at Creutzburg
Reports to: Director of Programs
Description
Reporting to the Director of Programs, the Trips and Tours Director plans the MLSN day trips to include local tours and bus trips on weekdays and weekends, in order to achieve MLSN's tuition and enrollment goals.
Responsibilities
Develops the day trip portfolio to offer a variety of educational, high quality and unique experiences. Responsible for planning 26+ bus trips and 10+ local tours annually. Adds additional trips and/or buses as needed based on demand.
Develops itinerary, writes catalog and marketing copy, manages trip expenses and sets pricing for trips. Enters all programming information into database. Monitors enrollment and collaborates with marketing staff to promote trips.
Hosts the bus trips and tours (as needed) and works with volunteer coordinator to schedule volunteer co-hosts.
Serves as liaison with MLSN's travel consultant for MLSN's international trip offerings. Writes copy for MLSN catalog and database entries.
Plans and organizes travel receptions at Creutzburg twice a year.
Keeps abreast of consumer/market trends to ensure relevance and competitiveness of MLSN's trips and local tours including content and pricing.
Researches new destinations, coordinates and develops in-depth knowledge of destination and local area.
Meets strict deadlines for catalog development.
Qualifications
Bachelor's degree and 5+ years of experience in planning and implementing trips and tours, destination management, events and/or educational and cultural programs.
Highly organized with outstanding attention to detail.
Excellent written and verbal communication skills.
Works well independently and as part of a team.
Outgoing and enjoys working with many different types of people from all walks of life.
Available on weekdays and weekends to host trips and tours, as scheduled.
Please send resume and cover letter to Jane Rutman, jrutman@mainlineschoolnight.org.
Subscribe to Our Newsletter
Be the first to know about exciting happenings at MLSN. Sign up to receive email updates.
Download Our Catalog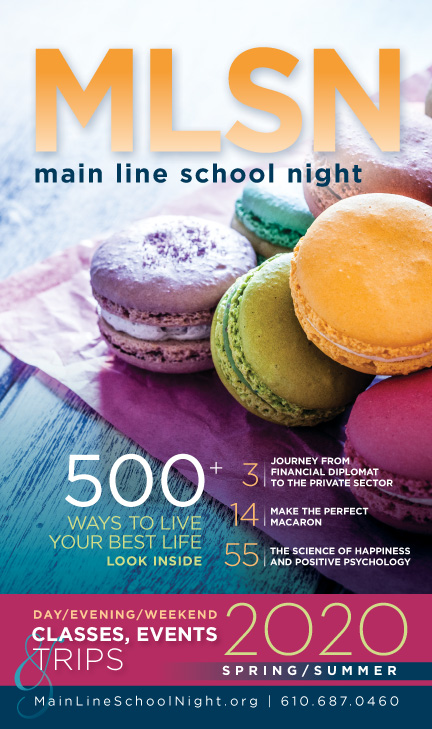 spring/summer 2020
Search classes, pages, news, categories...