Registration Assistant
Major Responsibilities
Be the "welcoming face" of MLSN as the primary staff member in the MLSN lobby greeting students, directing them to their classes, answering questions, processing registrations, answering phones and solving problems.
Collaborates with Programming staff and Registrar to provide high level of support to staff and students throughout the registration process from contacting waitlisted students, answering student questions, registering students for classes, and contacting students in cancelled classes.
Provides instructor and ongoing class support generating and distributing class rosters and end of the class evaluations.
Qualifications
Excellent interpersonal and communications skills and warm, friendly manner.
Highly organized, detail oriented and able to multi-task in priority driven context.
Excellent computer skills and interest and ability to learn quickly.
Proficiency in Microsoft Office, Excel, Word, Gmail.
Experience registering students in academic setting a plus.
College degree a plus.
Days and Times
Please send resume to Jane Rutman, jrutman@mainlineschoolnight.org.
Subscribe to Our Newsletter
Be the first to know about exciting happenings at MLSN. Sign up to receive email updates.
Download Our Catalog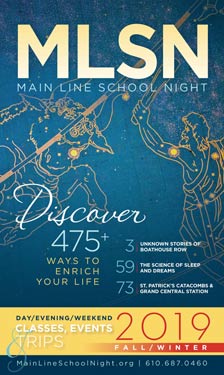 fall/winter 2019
Search classes, pages, news, categories...